Circulation Break-up of Valve India
(Approx. over 1,50,000 readers)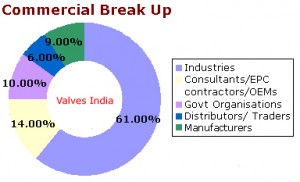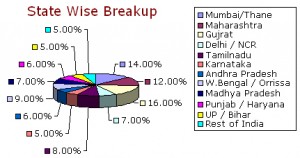 Overseas Market :
Valves India is circulated all over the world, countries include USA, Japan, Germany, Italy, England, China, Taiwan, Korea, Singapore, Middle east, African and South East Asian countries etc.
Wide Circulation in Core Industries
Valves India is circulated among end user industry professionals, including top executives, senior management and technocrats, plant engineers, maintenance personnel, purchase managers, distributors/valve traders & manufacturers.
Some of the end users in the mailing list of Valves India includes :
Power Generation : NPCL, NTPC, NHPC, BHEL,ICAR, Tata Power, Reliance Energy, Essar Power, Jindal Power, BSES, SEBs, GIPC
Oil & Gas : Reliance, IPCL, IOC, BPCL, HPCL, GAIL, MRPL, Andhra, Nova, Numaligarh, SPIC,

Chemical & Fertilizer : RCF, Tata Chemicals, IFFCO (all units), NFL (all units), FCI, GSFC, GNFC, GACL, GFL, HOCL, Indo Gulf, Chambal, ,Hindustan Fertilizer, FACT, Flex, Goodlass Nerolac, Kores, Pidilite, Dharamsi, Oswal, Trichy, India Glycol, IDI, TCP, Trident, Punjab Alkalies, Somaiya Organics, HLL, Multi Organics, Bombay Dyeing, Vinyl, Godrej Soaps, Asian Paints, ICI, Paradeep, Indian Rayon, DCW, Deepak Fertilizer, Gharda, Navin, Sudarshan, Hikal, Themis, Medicorp, Herdilia, Godavari
Pharmaceutical : Ranbaxy, Searle, Lupin, CIPLA, , Merck, Ipca, Malladi, Wockhardt, Torrent, Glaxo, Dabur, BASF, SUN,MARDIA, Divis, Knoll, Cadila, Ciba, Innotech.
Food & Process Industries : Ruchi, NDDB, DCM, Vippy, Agro Solvent, Amrit Banaspati, SM Dyechem, Kriti, Geepeeceval, Saf Yeast,

Sugar : Kothari, Bannari, Tamilnadu, Daurala, Jeypore Sugar, RB Patil, Seksari Biswan, Narang, Dnyaneshwar, Co-operative units of UP & Maharashtra.
Paper : Ballarpur, Hindustan Paper,Delta, GVG, Orient, Mysore, Pudumjee,
Waste/Sewage/Water Treatment : MCGM, Ion Exchange, Municipal Corporations (Many cities),PHEDs, WSSB
Cement : ACC, Century, Raymond, GRASIM, JK, BIRLA, L & T, Gujrat Ambuja.
Steel/Metal : Tata Steel, BALCO, ISPAT, SAIL- Bokaro, Bhilai & Vizag, Birla Copper, Orient, Hindustan Zinc, Hindustan Copper, Sterlite Copper, NALCO, Madras Aluminium, SWIL,Mukund, National
Construction : L & T, Jaiprakash, Hindustan Const, Gammon, Tata Projects, Subhash Projects, Dodsal, VM Jog,
Consultants : Toyo, ECC, PDIL, IDEA, TCE, TERI, Davy, Dalal, Fichtner, Bechtel , Kaverner, Lars Enviro, Paramount, Linde Process, Alekton, Mojj Engg, John Brown, Technip, Concept, Technimont, Chemtex, UHDE, MECON, Lurgi, EIL, FEDO.