Knife Edge Gate Valve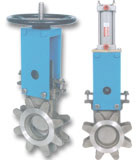 Expert Engineering Enterprise manufactures knife edge gate valves that comply with MSS SP81. These gate valves are available in size ranging from 50 mm to 600 mm. Materials of construction include WCB, CF8, CF8M, CF3, CF3M, SS317L, hastelloy-C, etc. Ends are wafer type or lugged design. Accessories are chain wheel, gear, pneumatic or electric actuator, etc.Specials are extended bonnet, deflector cone, soft seated, bi-directional, etc. Testing is as per MSS SP81.
For further information
contact :
Address

:

Expert Engineering
Enterprises
C-13.
Industrial Estate, Udyambag Belgaum 590 008

Phone

:

0831-244 2090

Fax

:

0831-244 2091

Email

:
Non-return Valves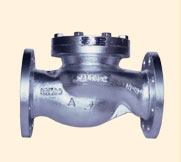 Caliber Valves offers a wide range of non-return valves for practically all rocess fluids. These valves are of lift check type with bolted bonnet construction. They have flanged end connection for easy fitment and maintenance. The non-return valves are designed as per BSI:1868 for a rating of ND 40 and tested as per BS:5160/API:598. Flange drilling can be as per ND: 40/ANSI B16.5 class 150 as the case may be. The valves are available from 15 mm to 200 mm sizes and can also be offered with IBR certificate in form III. The body and cover plate are ASTM A 216 Gr WCB and the seat and disc are CS hard faced with 13 per cent chrome steel for wear resistance. The spindle and other trim are of 13 per cent chrome steel; spiral wound gaskets are provided for positive sealing of the
body cover plate joint. These non-return valves are essentially used for the safety of the equipment and the people handling them particularly in parallel operations. The valves make sure that there is no unintentional bypassing of the process media through the equipment and pipelines when not required.
For further information contact :
| | | |
| --- | --- | --- |
| Address | : | Caliber Valves No 23, Thiruvalluvar Street,Jagadambigai Nagar Padi, Chennai 600 050 |
| Phone | : | +91-44-26540591, 30911939 |
| Fax | : | +91-44-2654 9170 |
| Email | : | |
Butterfly Valve
Ravands Controls manufactures and ffers butterfly valves that are incorporated with smart and robust designs foi ritical applications. These butterfly valves consist of strong single piece moulded body with high strength material. Swing disc is of special design for low breaking torque and ease of closing.
Hexagonal stem design results in more contact surface and chances of failure of disc is less. Oval shaped fixing holes to suit different flange standards have been provided. Specially designed seal hugs the body and disc and seals the flow. Ergonomically design handle makes operation of the valve easy and comfortable. Locking and positioning mechanism is laced inside the handle to prevent them from corrosion and physical damage. Non-wetted parts, stem and locking ring are made up of SS420 for better corrosion resistance. Provision is made in such way that actuator can be mounted by replacing the handle. Actuator can be fixed according to ISO :5211 standards.
For further information contact :
| | | |
| --- | --- | --- |
| Address | : | Ravands Controls Chandragiri, Tirupati – 517 101 |
| Phone | : | +91-877-2272555 |
| Fax | : | +91-877-2272444 |
| Email | : | |
Ball Valves

SATURN an MEWPL brand offers Uni body; side entry design Full bore Flush bottom ball valves for Flushing application on reactor's outlet assuring zero hold up's in body by allowing ball to protrude in reactor side. Floating ball: where sealing takes place by allowing ball to move under pressure towards the down stream seat to achieve positive tight shut-off, Seats : Moulded PTFE & reinforced TFE renewable seats ssures positive seating and lower operating torque., Antistatic device: an safety feature i.e. When static are generated and concentrated on the ball due to solvents & high velocity , the spring -loaded ball are nstalled on the stem which keeps continuity throughout the valve and ischarges the static.,
Live loaded gland packing : to avoid frequent & positive gland tightening against high no. of cycles, Compliance standards: B 16.34, BS 5351, BS 6755-1, ANSI B 16.5 Size: 25-200 mm Class: 150 & 300 Options: Buff finish & Ultra clean valves for Food & harmaceutical industries, Jacketing, Long length lever from ground operation, Pneumatic actuator operated can be provided.
For further information contact :
| | | |
| --- | --- | --- |
| Address | : | Mevada Engineering Works Pvt. Ltd. Unit No. 1, Plot No. 9, Mistry Industrial Estate, I.B. Patel Road, Goregaon (E) Mumbai- 400 063 |
| Phone | : | +91-22-26859960/26859967 |
| Fax | : | +91-22-26852045 |
| Email | : | |
Parallel slide blow off valve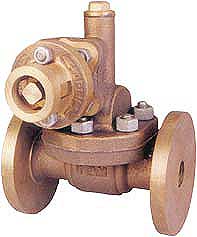 IBR certified V K Valves Manufactures Utam brand valves conforming to most stringent controls. These valves are designed to be user friendly, i.e.. easy to install, operate. maintain and are safe. The company offers IBR certified parallel slide blow off valves. These have flanged ends. as per BS : 10 Table -H. Brief specifications: steam working pressure -17.58 kg/cm2 (250 PSIg): max permissible temperature – 2250C (4370F): and hydraulic test pressure – 35.16 kg/cm2 (500 PSIg).The company provides efficient after sales service to the complete satisfaction of its patrons. It uses latest technology like CAD/CAM for designing.
CNC machines, fully quipped laboratory, and has a trained and motivated workforce. Utam alves are suitable for controlling a wide variety of service fluids within the specified pressure ranges and working temperatures. The ompany has been bestowed with various certifications like BIS, IBR and ISO: 9001- 2000, and approvals from big industrial users, government, semi-government and private sector.
For further information contact :
| | | |
| --- | --- | --- |
| Address | : | V K Valves Pvt Ltd PB No: 509, C-106, Focal Point Extension Jalandhar, Punjab 144 004 |
| Phone | : | +91-181-2600276, 2600376 |
| Fax | : | +91-181-5083349 |
| Email | : | |
Valves/Check Valves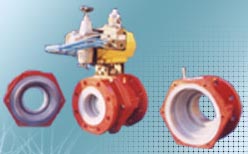 Dip-Flon Engineering & Company is one of India's distinguished manufacturers, fabricators and exporters of PTFE/ Teflon moulded and Teflon lined components. The range includes Teflon (PFA-FEP) lined ball valves, plug valves, flush bottom valves, check valves, dip pipes, spragers, feed pipes, butterfly valves, spindles, flow tubes, Teflon spares for glass-lined vessels and reactors and equipments,DFE compressors spare and many more. The company has state-of-the-art infrastructure and a dedicated workforce that enables it to satisfactorie meet the market requirement. The comprehensive product range includes PTFE lined valves. The Dipflon float check valve combines the corrosion resistance and product purity of FLO-VU sight glass with a unique Teflon PFA ball float assembly that prevents
overfilling of the bottom chamber. It is intended as a means of preventingvent-line contamination in sampling or dosing of application
For further information contact :
Address

:

Dip-Flon Engineering & Company, B-413, BG Tower, Shahibaug Road, Ahmedabad – 380004

Phone

:

+91-79-25624003, 25624169, 25620554

Fax

:

+91-79-25625665

Email

:




dipflon@satyam.net.in

,


Info@dipflon.com
Foot Valve, Flange
End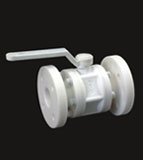 Parth Plastic Industries, an ISO 9001:2000 company, has been in operation since 1991
manufacturing products like polypropylene and high density polyethylene ball valves, diavalves, foot valves, flow indicators, Y-type strainers, pipe fittings and a host of other accessories in various size, the maxisoft seated; design and
manufacturing standard-as per manufacturer's standard end connections-flanged as per ANSI b 16.5 (150#) as per BS 10 (table D/E/F) and DIN standard, and engineering options-teflon coated rubber, EPDM, rubber, viton rubber on request.
Available materials of construction: PP (polypropylene); HDPED (high density
polyethylene); isotactic PP; and PVD (Polyvinylidene fluoride).
For further information contact :
| | | |
| --- | --- | --- |
| Address | : | Parth Plastic Indsutries109, Mona Industrial Estate,Naroda Road, Ahmedabad – 380025 |
| Phone | : | +91-79-22200198,22200809 |
| Fax | : | +91-79-22200809 |
| Email | : | |
SchuF special Valves
SchuF is

German ISO approved company manufacturing mostly non-standard valves for special applications in the various process and pharmaceutical industries. State of the art manufacturing facilities are existing in Germany, Ireland, India, Brazil and USA
We have many patented designs.
Disc & Piston type flush bottom/drain valves,
Sampling valves & sampling systems for tanks and pipelines,
Lift plug valves,
Multiport diverter valves,
Changeover valves, 'Y' Globe valves, Angle and special process control valves, High-pressure angle valves, PTFE or Glass lined valves, Sterile service valves.
All above can be manufactured in a wide range of materials including various grades of SS, Duplex, Hastelloy, Titanium etc. and covering all sizes and pressure ratings. Various sealing arrangements can be provided including bellows and diaphragm seal to atmosphere. Valves
can be produced for the pharmaceutical industry using GMP and CIP techniques. The company is experienced in handling aggressive media at high pressures and temperature and have supplied valves to the PTA, PET, PP, PVC, Urea, Pharma and many other industries.
For more details, write to :
| | | |
| --- | --- | --- |
| Address | : | SCHUF Specialty Valves India Pvt. Ltd 2/224, Mylampatty Road, Karayampalayam, Mylampatty Post, Coimbatore – 641014 Tamilnadu |
| Phone | : | +91-422-2629026 |
| Fax | : | +91-422-2629028 |
| Email | : | |
Orbinox Knife Gate Valves
ORBINOX – The internationally renowned brand of Knife Gate Valves are produced now in India too, in addition to Spain & Canada. ORBINOX offers a wide range of Knife Gate Valves for handling diverse applications in Water, Waste Water, Bulk Handling, Cement, Sugar, Pulp & Paper and other process industries. ORBINOX Valves are produced from quality assured raw material. The design and quality assurance system ensures that each ORBINOX valve leaves the factory with the promise of Trouble free operation, 100% interchangeability of
Parts and Conformity to relevant manufacturing & testing standards. ORBINOX offers a range of actuators like Hand Wheel, Pneumatic Cylinder, GearBox, lectric Actuator etc., with accessories like Limit Switches and Solenoid valves. ORBINOX Valves are available in Cast Iron & many varieties of Stainless Steel like CF8M, CF8, CF3M, CF3, CG3M etc, and with Drilling Standards like ANSI/BS/DIN.
ORBINOX Knife Gate Valves will be made available Ex-Stock soon at many dealership
points around the country. ORBINOX also possess exhaustive data and experience to suggest the right type, material etc. for any application.
For more details, write to :
| | | |
| --- | --- | --- |
| Address | : | ORBINOX INDIA PVT LTD.A 13 & 14, Private Industrial Estate Kurichi, Coimbatore – 641021Tamil Nadu, India |
| Tel Fax | : | +91-422-2671261 |
| Email | : | |
| Website | : | |
High Performance Butterfly Valves

The ultimate in high performance Butterfly valves, IV's IVEX-series incorporates the state of the art valve technology to out perform the competition. The double offset disc design nearly eliminates the seating wear due to the camming action of the disc during closing. The mechanical stopper rovided on the valve body ensures precise valve closing every time to ensure specified seat tightness. The disc has a spherical profile and comes out of contact with seat in the initial opening itself. The valve is available with 3 distinctly different seat design versions, viz. Soft seated, Fire safe and Metal to Metal seated with wafer or wafer lugged body option.
The valve has excellent throttling characteristics with good low flow control capability, which offers an inherently higher rangeability. This feature of IVEX series makes them ideal for the flow control / modulating duties. An adjustable gland box type shaft sealing arrangement permits on line adjustment of the
packing to ensure zero leakage. The fire safe version, IVEX -F model has been fire tested and certified as per the requirements API 607 standard by Lloyd's
Register of Shipping. Key Features :
Double offset disc design with a spherical profile seat eliminates seat wear and ensures perfect sealing every time.

Availability of wafer lugged body with through drilled or threaded holes.

Available in 3 distinctly different seat version viz. PTFE seat, Fire Safe seat and Metal to Metal seated.

Self- lubricated drive end and non-drive end bearings for IVEX –T and IVEX-F models and galling free metal bearing for IVEX-M versions.

Stuffing box type gland sealing to enable field adjustment of shaft sealing.

Gland packing standardised on graphoil rings (non-asbestos) to offer widest operating temperature range coupled with excellent media esistance.

Metal seat standardised on Inconel 625 material to offer maximum temperature resistance and minimum seat deformation.

Option of seat material for soft seated version in virgin PTFE or filled PTFE.

Seat removal without disconnecting of shaft and disc.

Split ring type thrust pad provided for the drive end shaft prevents axial movement of the disc as well as ensures the
required anti-static feature for the valve.
For more details contact :
| | | |
| --- | --- | --- |
| Address | : | Intervalve (India) Ltd212/2, Hadapsar, Off Soli Poonawalla Road,Pune – 411028 |
| Phone | : | +91-20-26993900 |
| Fax | : | +91-020-26993921 |
| Email | : | |
| Website | : | |
Flush Bottom Ball Valve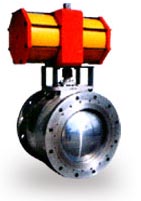 Drainage Is Fast : Port diameter of the ball is equal to the pipe bore
when valve is opened the flow is straight through, full and unobstructed.Drainage Is Easy : The quater-turn open to close feature, it also
requires exceptionally low operating torque.
Drainage Is Complete : The ball is located very near to the tank,inimizes
space, this prevent sludge and other trapped sediment from accumulating.
For more details contact :
Address

:

Flowchem Industries 10, Navdurga Industries Estate, Opp. Forge &
Blower Co., Naroda Road, Ahmedabad – 380025

Phone

:

+91-79-22204773, 22203623

Fax

:

+91-79-22201401

Email

:

Website

:
Automatic Control Valves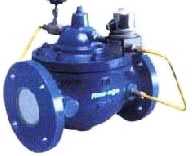 Flow-Tek Valves & Controls A leading Manufacturer of Specialized Control Valves offers a self Actuating Pilot Operated Automatic Control Valve specially design for Liquid Service, Also called as a Multifunction Control Valve.
These type of Valves are designed to provide different combination of Pilot Arrangements that can be used for various types of functions like : On/Off, Pressure Reducing,Pressure Relief, Flow Control, Pump Bypass, Non Return & many more.
Flow-Tek Liquid Controls Valves confirms the seat leakage in Class VI of ANSI B 16.104 & available up to size of 16″ in the flanged end to ANSI Class 150 & 300 with temperature range up to 220 °C maximum.
Design : Self Actuating, Pilot Operated
MOC : Cast Iron / Cast Steel / SS 304 / 316 / Gun Metal
Pressure Rating : ASA 150#, 300 #
End Connection : Flanged End / Screwed End
Main Functions : Automatic Control Pilot Operated Valves
On-Off/ Pressure Reducing Pressure Relief / Pump Bypass / Safety of Line/ Flow Rate / Level Control-Overhead Tank & Vessels Level Control / Pressure Relief Cum Pressure Reducing / Non Return Function (Check Valve).
Widely Used For : Automatic Control Pilot Operated Valves
Air Craft Fuel Injection /Defuelling Drip Irrigation. / Housing Colony Water Supply with Timer (Water Distribution System) /Water Tank Level Control /Musical & Dancing Fountain with Sequential Timer and Many More.
For more details contact :
Address

:

Flow-Tek Valves &Controls L-556, GIDC Est,Near Odhav Police Stn
Ahmedabad –382415

Phone

:

+91-079-22875310, 22894363

Fax

:

+91-

Mobile

:

+91-9824080899
PINCH VALVE from
Brightech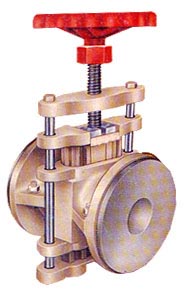 Pinch Valves as shown in the Photographs are Seatless & Glandless, Straight through valves. They are lined with an elastomer, which is collapsed, by a pinch bar or clamp for throttling and closure a segmented metal body surround the
sleeve, a lifting mechanism is attached to the top & bottom sleeve surface to ensure opening in vacuum service. However a minor pressure will readily return the sleeve to its full port round section, giving full flow of pipeline. Heavy duty reinforced elastomer sleeve trim is the only wetted part, eliminating packing, valve seats and mechanical parts which are the source of high maintenance.
These valves are normally rated from full vacuum to 150 PSI and are suitable to temp of 350 °F. Size range is 1″ to 12″ they handle corrosive slurries, abrasive media, Liquid with Solid suspensions and many others which are difficult to handle with seat valve.
| | |
| --- | --- |
| MOC | Cast Iron / Cast Steel |
| Pressure Rating | ASA 150# |
| End Connection | Flanged End |
| Sizes | 2"TO 18" |
| Rubber Sleeve | Neoprene,Natural, Butyle, Hypalon, Viton, E.P.D.M or Any special material with fail open/fail close Pneumatic, hydraulic, or electric actuators. |
For more details contact :
Address

:

Brightech Valves & Controls Plot No. 345, Road No. 6,GIDC,Kathwada,
Ahmedabad –382430

Phone

:

+91-79–22902911

Fax

:

+91-79-22900538

Email

:
Diaphragm Type Valve
Size : Available from ¾" to 6″ line size
| | | |
| --- | --- | --- |
| Body Material | Pressure | Temperature |
| Cast Steel | 150, 300 | 400 °C |
| Cast Iron | 300 | 220°C |
End Connections : Mostly flanged type & can be drilled as per the required standards.
Packing : Asbestos, Teflon or graphited asbestos Spring Loaded Teflon, V cups self compensating type for steam packing.
Diaphragm : Neoprene rubber with canvas insertion.
Actuator : Direct acting, Spring return type Air to open OR Air to close.
Types : 2 way type for ON/OFF operations 3 way type for MIXING / DIVERTING operations.
Special Feature : There is the Heat Radiating section on the bonnet, with evenly spaced efficient radiating fins, Saves the actuator from the effects of from the pipeline.
For more details contact :
Address

:

H. P. Valves Mfg Co. 7/A, Bansidhar Estate,Bardolpura O/S Dariapur Gate
Ahmedabad – 16

Phone

:

+91-79-22166680

Fax

:

+91-79–22120945
Reflex Level Gauges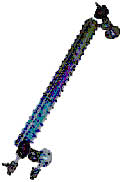 The principle of Reflex Level Gauges is based on the difference in the refractive indices of liquid and vapor. the liquid column is contained within the recess of the liquid chamber behind the sight glass which is clamped to the gauge body. The sight glass has prismatic right angled grooves on the side facing the liquid and vapor space. Light rays entering from outside the gauge are either absorbed or reflected depending upon whether they enter the liquid or vapor space , it is reflected to the opposite surface of the grooves and from there, totally reflected back to the direction of observation. thus, vapor space appears as silvery white. When the light ray encounters the surface of the grooves in the liquid space, it is totally absorbed, thereby making the liquid behind the
glass appear black.
Usage : Used for observing various liquids by using reflextion of light and for high pressure. high
temperature excepting steam line.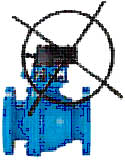 Engineers Combine offers Two piece design, ANSI Class 150, 300 and 600, 900# from ½" (15 mm NB) to 12″ (300 mm NB) in Flanged and Butt Weld ends, in Full and Reduced Port construction. We can offer Investment Casting upt 100 MB in calss 150# for CF8/CF8M/exotic materials. Trunnion Mounted/Floating Ball Design. Manual/Gear Operated/Actuated (Double Acting/Spring Retrun fail design). We can offer fire safe type tested Ball valve as per API 607
Address

:

Engineers Combine UGF – 16, Akash, Judges Bunglow Road, Ahmedabad -380054.

Mobile

:

+91-98240-68774

Phone

:

+91-79-26857923

Fax

:

+91-79-26855256

Email

:




mukesh@valveindia.com

,


sales@valveindia.com

Mobile Office

Mobile

:

+91-93224-06488

Phone

:

+91-22-28330927

Fax

:

+91-22-28333165
Pulp Valve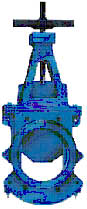 Brightech Valves offers Pulp Valve. (Plate Valve) which are carefully design to offer unrestricted smooth flow of viscous Fluids, Recesses free straight passage orifice offers minimum body contact of line fluid, avoids Accumulation of viscous fluid in the orifice ensures unaltered velocity.
Brightech Pulp Valve are widely used in Sugar Industries for handling Molasses, Isolation of Pulp & and Fibrous material in Paper Industries. Ideally suitable for
hopper Isolation in the Cement Industries. For corrosive Slurries in the Chemical Industries, powder Application Minerals & Metal Industries, coal Ash with Abrasive Particle in the Coal & Mining Industries.
Types : O.S. & Y Type, Rising Spindle
MOC : Cast Iron, Carbon Steel, SS 304 / 316
Pressure Rating : ASA 150#
End Connections : Wafer Type
Drilling : ANSI B 16.5, BS
10 TABLE "D", "E" & "F"
For more details contact :
| | | |
| --- | --- | --- |
| Address | : | Brightech Valves & Controls P Ltd Plot No. 345, Road No. 6,G.I. D.C., Kathwada, Ahmedabad – 382430 Gujarat, India |
| Phone | : | +91-79-22902911, 55248816 |
| Fax | : | +91-79-22900538 |
| Email | : | |
Actuated Ball & Butterfly Valves

UKL presents the complete valve automation system for ball and butterfly valves, for 0n-off,regulating and control function as per customers
requirements.
Systems can also be offered for emergency operation conditions requiring shut-off or fail safe or stay-put conditions, coarse and fine filling / weighing, and controlled response.
The control systems, including the pneumatic rotary actuators, offered meet all the critical requirements of hazardous, abrasive and corrosive environments.
UKL Ball Valves: 2 and 3 piece, Socket, Screwed and Flanged ends. Available in CS, SS, MOC, and PTFE seals. Sizes 15mm to
200mm The valves are provided with mounting pads as per ISO5211 for mounting of actuators if required.
The Seals are uniquely profiled so as to ensure equal class VI sealing both upstream as well as downstream.
UKL High Performance Butter Fly valves are available in sizes 40mm to 300mm and above too. PN10 / ASA150 rating Wafer type, and can be mounted between any standard Pipes Flanges.
In SS316/304 with SS Flap and PTFE / EPDM / NITRILE seals. Also available in CI MOC with SS / CI Flap.
As Ball valves the Butter fly valves can too be provided with Mounting pads as per ISO5211 for mounting of Actuators, VDI/VDE for mounting of accessories and NAMUR for Solenoid valves.
Flush Bottom Ball valves and Control Dampers: can be supplied too.
Actuators – Electro Pneumatic: All the above valves can be provided with Actuators of Electro pneumatic linear, Electro pneumatic Rotary, Single and Double acting type, with accessories like Solenoid valves, 2 and 3, Position Indicators.
Positioner with I/P Converters too can be provided with the Actuators, making it a complete Automation system.
| | | |
| --- | --- | --- |
| Address | : | Uni Klinger Ltd SC1 p Estate, 5th Flr., Mumbai – Pune Highway, Khadki, Pune – 411003, India. |
| Phone | : | +91-20-25823244 |
| Fax | : | +91-20-25817566 |
| Email | : | |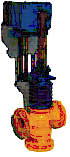 Motorised Type
Size : Available from 1″ to 4″ line size.
Body Material : Cast steel, Cast Iron as per requirement. Internal working parts of Stainless steel, Bolted bonnet.
End Connections : Flanges can be drilled as per BS, ANSI, DIN & ISS Standard
Actuator : Electric motor type
Valve Action : ON to open OR ON to close
| | | |
| --- | --- | --- |
| Body Material | Pressure | Temp. |
| Cast Steel | 600 PSI | 400 °C |
| Cast Iron | 150 PSI | 220 °C |
Types : 2 way type for On/Off operations 3 way type for Mixing/Diverting operations.
Long life of actuator

Low Maintenance

Minimum flow resistance
For more details contact :
| | | |
| --- | --- | --- |
| Address | : | H.P. Valves Mfg. Co. 7/A, Bansidhar Estate, Bardolpura,O/S Dariapur Gate,Ahmedabad – 380016 India. |
| Phone | : | +91-79-2166680,C/o : +91-79-5626917,5620902 |
| Fax | : | +91-79-2120945 |
| Email | : | |
Semented Ball Valve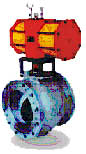 Flowchem Industries manufactures segmented ball valve. This is a Quarter turn ball valve having segment of ball in place of complete sphere ball. Lesser weight,unobstructed flow and economical valve can be successfully used in
Powder Handling

Slurry Services

Abrasive Services
For more details contact :
Address

:

Flowchem Industries 10, Navdurga Industries Estate, Opp. Forge & Blower Co.,Naroda Road,

Ahmedabad – 380025 Gujarat – India

Email

: