Editor in Chief & Publisher – Anil Upadhyay
A technocrat with management qualifications, having 30 years of experience in the fluid power industry, worked with multinationals, wide exposure to marketing of pumps/valves and allied products in India and abroad. Publishing Pumps India magazine for the last 27 years, widely circulated in India & abroad. Magazine has won awards for best presentation, coverage & circulation. His several articles are published in Indian & foreign journals. Traveled abroad extensively, Germany, China, Singapore, Malaysia, Indonesia, Hong Kong, Thailand, Dubai, Abu Dhabi, Bangladesh & Nepal etc.

Anil Upadhyay
Hon. Editor – Dr. Jacob Chandapillai
Dr. Jacob obtained M.Tech and Doctorate from IIT, Madras and has over 25 years of experience in the field of flow product evaluation and flow problems. He has developed unique technique for equitable supply in water distribution systems and also developed low cost device to constant flow irrespective of upstream pressures. Before assuming the charge as Director, he was heading Centre for Water management at FCRI dealing with flow product evaluation and consultancy service for water boards. Before joining FCRI, he was with Tata Consulting Engineers, Mumbai. He is actively involved in organizing conferences and reviewing papers for international journals. He is a member in different committees in water boards, NABL etc. He has several Papers in National & International Journals and conferences to his credit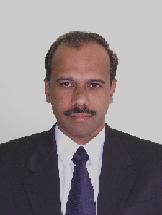 Dr. Jacob Chandapillai
Hon. Editor – Mr. RANGAPRASAD SANTHANAM
A Professional in Industrial Valves  Industry , done Bachelor of Engineering (Mechanical Engineering) from  College of Engineering, Guindy, Anna University , Chennai  . He is with more than 27 years of experience in areas of Manufacturing , Supply Chain & Quality Control in India  with  leading manufacturer of Industrial Valves  Well versed in Complete Manufacturing activities from Sourcing till Shipment for various types of Industrial Valves, like Gate, Globe, Check , Ball , Butterfly valves &  Valves for Nuclear and special applications. • Strategic Sourcing, Development, Establishment & Expediting of key Supply Chain for Valve Manufacturing, from Castings, Forgings, Welding, Assembly, key components like Actuators, Gearboxes, Fasteners, Stems, Packings etc • Strategic Capacity Enhancement in Plant  & Outsourcing operations.  Established the complete Manufacturing & Supply Chain  from scratch, for Gate, Globe, Check Valves in Kanchipuram Plant &  High Pressure Valves for Thermal in Coimbatore Plant of L &  T Valves &  scaled up the production volumes with a sound vendor base & facilitated key approvals from customers like Saudi Aramco, SHELL, Exxon-Mobil, KNPC , ADNOC, IOCL • NTPC , EIL , Reliance & global EPC companies. • Established the Manufacturing &  Supply Chain for critical valves for Cryogenic applications • Super Critical Power Plants &  Nuclear Power Plants .
Contact Number :
(+91) 9841028755
s.rangaprasad4@gmail.coml
Mr. RANGAPRASAD SANTHANAM